Homemade Memories
Have you ever taken a moment to think about the importance of the kitchen and how it interwinds itself into our most significant relationships? It truly is  a place where memories are homemade and sprinkled with a dash of love and laughter. There's nothing I love more than cooking some good eats for my friends and the moments we share in the kitchen and between bites are priceless.
We recently got together with our closest friends to cook a grand meal. The four of us always have a knack for putting our heads together to create one hell of a dinner party. Even the little ones enjoyed this one!
Here's the menu:
Goat Cheese Stuffed Baby Peppers w/ Balsamic Glaze
Honey Crisp Arugula Salad w/ Champagne Vinaigrette
Prosciutto Wrapped Mahi Mahi w/ White Wine Sage Sauce
Rainbow Vegetable Couscous
Kale Potatoes
It sounds intense, but it was relatively easy to make each dish with creativity and little direction. Let's start with the peppers, here's what you'll need:
Baby Pepper Medley
Goat Cheese Log
Balsamic Glaze
Preheat the oven to 350. Then slice the mini peppers in half or cut their tops off. I like to cut the top off and put a slit in the middle of the pepper to make it easier to stuff. Spoon the goat cheese into each pepper. Place them on a pan lined with parchment paper to make cleanup easier. Bake them for about 20 minutes. You can eat them plain or drizzle them with a balsamic glaze. I love the fig balsamic glaze that's at Fresh Market, it's my go to. The only thing left to do now is eat 'em!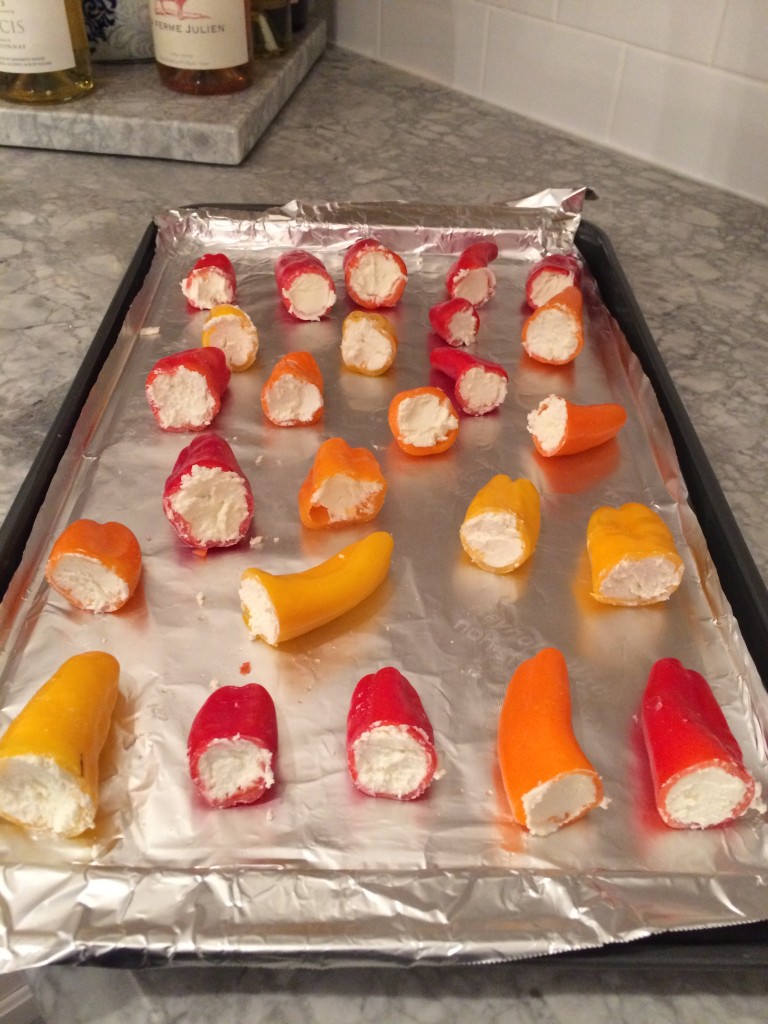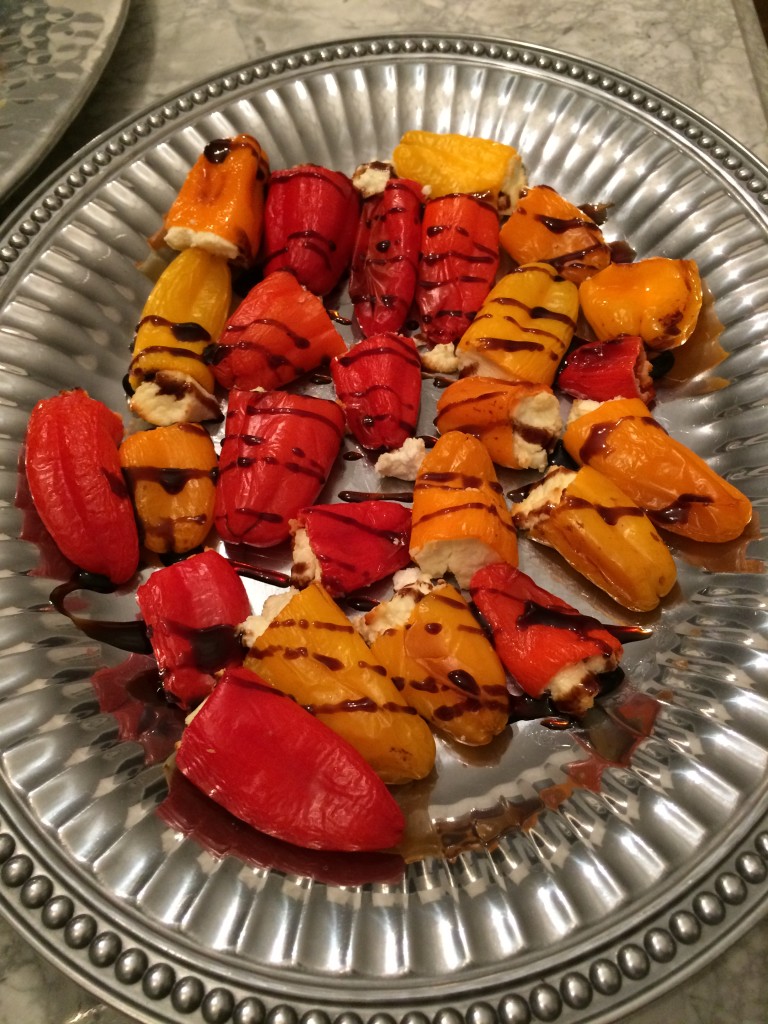 The Honey Crisp Arugula Salad w/ Champagne Vinaigrette is super easy and quite refreshing. Salads should not be hard, just don't over think it. Simple is the best way to go. Use whatever greens you like and thinly slice a honey crisp apple to add-in. I threw in some walnuts, goat cheese, and pomegranate perils.
The highlight of this salad was the Champagne Vinaigrette. Making your own salad dressings is so easy and much healthier than a store-bought dressing. The simplicity of this vinaigrette made it so darn good!
Here's what you'll need:
1/4 cup Champagne vinegar
2 Tbsp Honey or maple syrup
1 Tbsp fresh lemon juice (I threw in some lemon zest too)
1/2 tsp Dijon mustard
1/2 cup olive oil
Salt and pepper, to taste
Mix well the vinegar, honey or maple syrup, lemon juice, and mustard. Slowly add the oil and continue mixing until you  notice a creamy mixture. Use immediately or store in a container.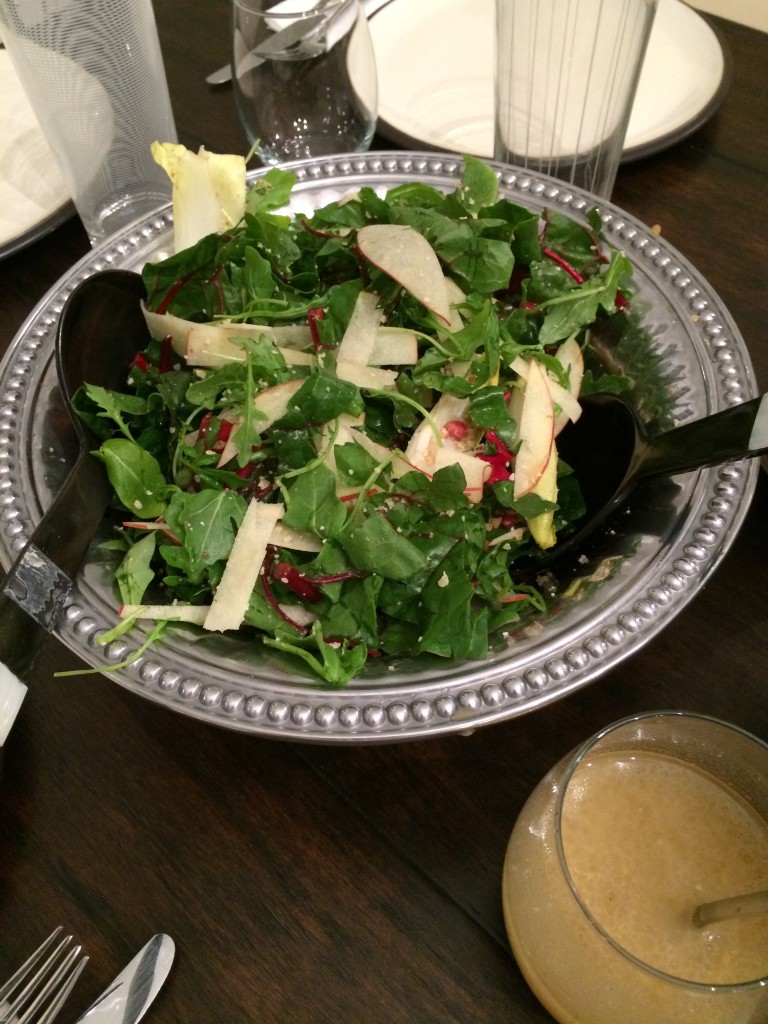 There's really nothing special to the prosciutto wrapped mahi mahi. Preheat the oven to 375. Season each piece of fish with a little salt and pepper before draping it with prosciutto. Melt a couple tablespoons of butter before browning each side of the mahi mahi. After browning place each piece on a sheet pan and bake for about 15 minutes or until the fish is done to your taste. While that's in the oven, sauté fresh sage with a tablespoon (or two) of butter. Then add in the white wine, a 1/2 cup will do. Let the sauce cook until the alcohol is cooked off. Remove the mahi mahi from the oven and spoon the sage sauce over the mahi mahi. Enjoy the savory flavor of this one!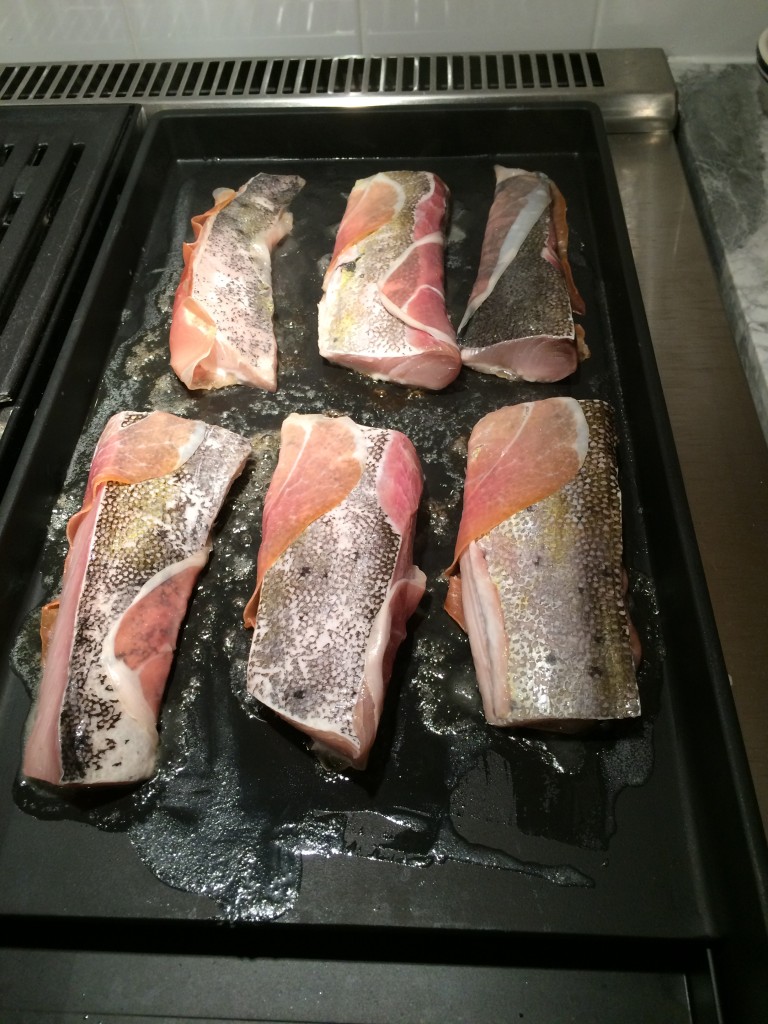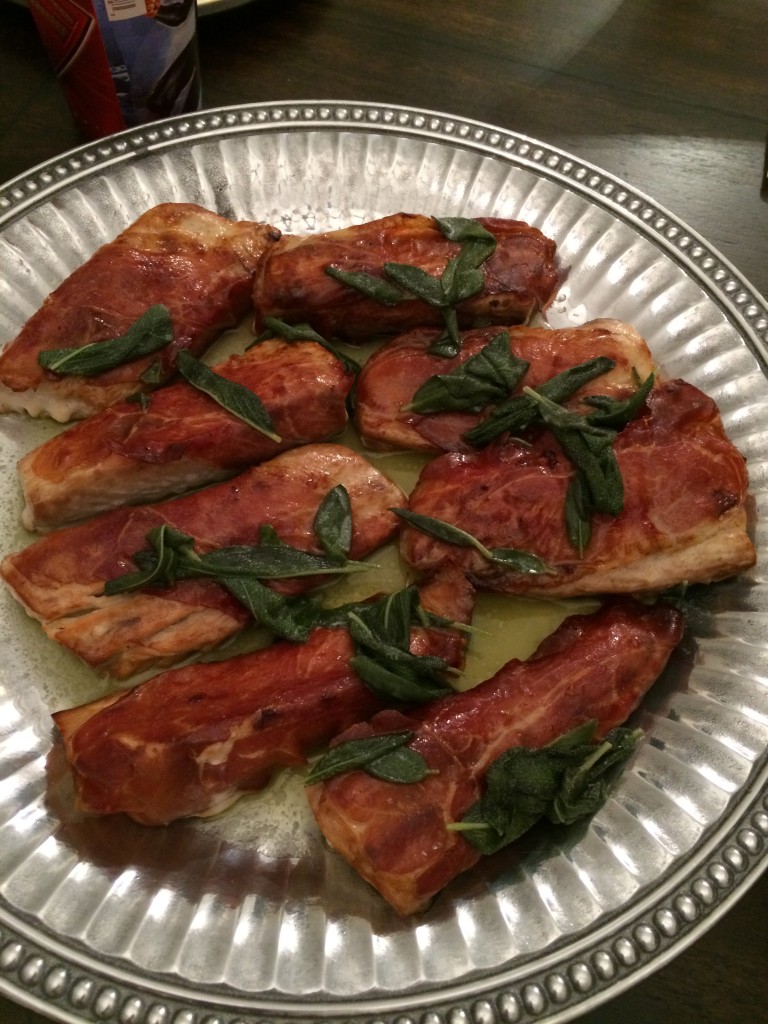 We used two of my favorites foods for the next dish…Israeli coucous and Japanese purple sweet potatoes. Cook the couscous as instructed and set aside. Use a mandolin slicer to thinly slice the sweet potatoes. I also threw in some rainbow carrots. Once everything was sliced add it and garlic to a lightly oiled sauté pan. Cook until they are tender, be sure not to over cook them into a bright mush. In a bowl mix the couscous with the sautéd vegetables. Add in 1/4 cup of lemon or lime juice along with a 1/4 cup of olive oil. Mix everything well and enjoy this bright spot on the table.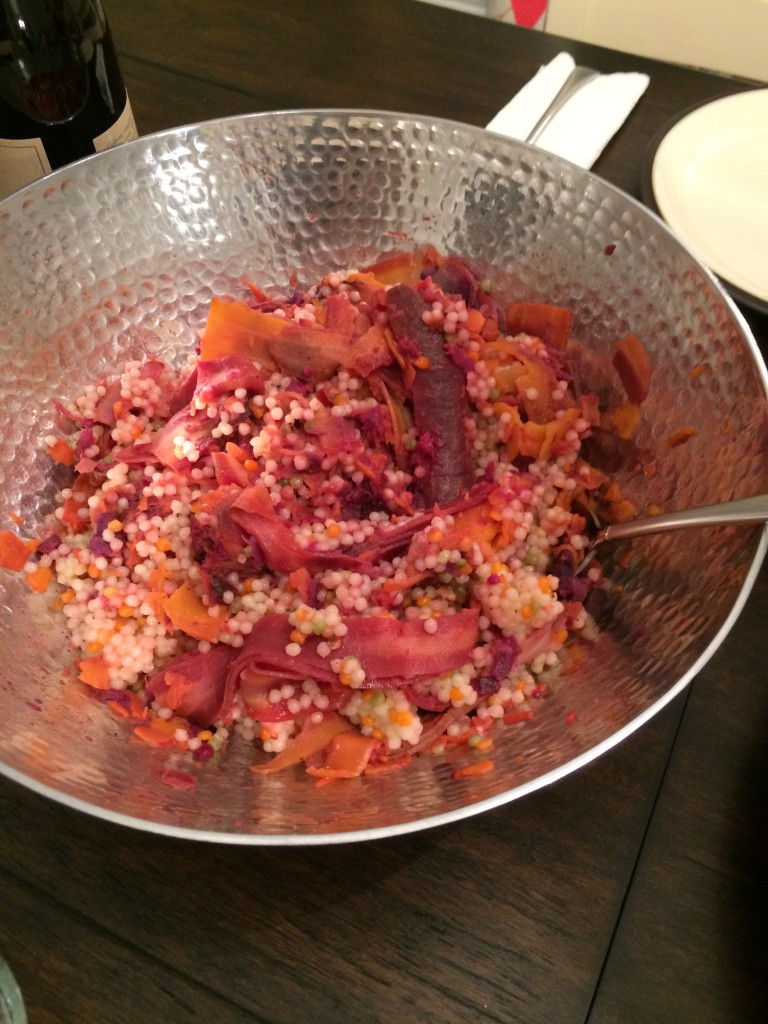 The last piece to this meal has become one of my favorites. It's something about the mixture of potatoes, kale, and cheese that make my tastebuds happy. These can be made into patties or just a mix-all. I ran into a pinch for time so I did a mix-all and it was great.
1 lb Baking potato, peeled and cut into 1-inch pieces
1 cup Ricotta cheese
1/2 cup2 Shredded cheddar cheese
2 tablespoons extra-virgin olive oil, divided
4 cups Finely chopped kale
3/4 cup Chopped green onions (optional)
1 Garlic clove, minced
1/4 teaspoon Crushed red pepper
1/4 teaspoon Smoked paprika
Salt & pepper to taste
Place potatoes in a medium saucepan. Cover with water and bring to a boil. Reduce heat, and simmer 10 minutes or until tender. Drain. Combine potato, cheeses, salt, and black pepper in a medium bowl, and toss to combine (do not mash). The key really is to not mash.
Add oil to a hot skillet, swirl to coat. Add kale, onions, and garlic; cook 5 minutes or until kale is tender. Sprinkle with red pepper and paprika. Add kale mixture to the potato mixture, stirring to combine. At this point you can make patties from the mixture or return it to the skillet. Either way add a bit more oil to the skillet and cook until the cheese starts to turn to gold.